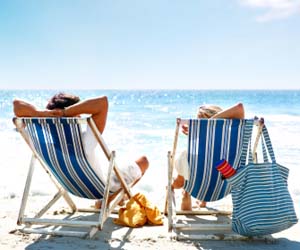 I'm writing this as our extended family enjoys our annual trip to the beach. It's the same every year. "We need to win the lottery so we can buy a house and live near the ocean." But if there were ever a year to give up the lottery hopes (we'd have to play it first, anyway) and just invest, this might be it. After all, prices are down on the islands, too.
The logistics of trying to rent it out appear overwhelming, but a recent glance at the Equifax Personal Finance Blog gave pointers. Real estate expert Ilyce Glink lists
nine things to remember as you market and rent your space. Many of her pointers focus on the marketing of the property. As we're just beginning our week at the beach, I have a few additional ideas as well.
Our owner thought of every convenience from posting directions to the grocery store on the refrigerator to compiling a notebook with all sorts of information, from cable channels to her favorite restaurants to check out procedures.
And do you know how there are never enough places to hang wet towels and bathing suits? Our hostess placed extra hooks in every bathroom and walk-in closet. She also provided night lights, which were especially appreciated by our children.
However, one thing we'll suggest to our young, tall, healthy friend/owner is that she remember people of different abilities and sizes. The very comfortable beds have extra thick mattresses. They're also very high. If we'd brought Grandma with us this year, she wouldn't have been able to climb into the bed. We're going to recommend a step stool.
To read Glink's full list of recommendations for vacation rental property owners and other real estate related articles, visit the
Equifax Personal Finance Blog. She'll respond to your questions, too. Have a comment about things you wish your last vacation rental had? Leave it here.