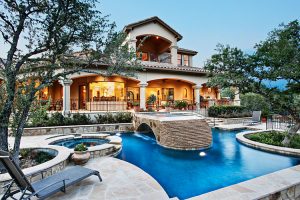 Luxury custom home buyers know that adding a pool as part of their outdoor landscape will complement the home design. And custome builders, such as Austin Custom Homes know that the best time to build a pool is during the home construction process.
Choosing what type of pool you want can be a big decision. There are many types of pools. Here are a few to consider:
lap pools, which are narrow and up to 50 feet long
free form pools can mimic a rocky oasis
infinity edge pools seem to vanish into the horizon
By designing and building the home and pool together, the outdoor space can easily be integrated into the look of the home's façade. Materials can be purchased together, so elements that are repeated around the pool and in other outdoor spaces will match perfectly.
Building the pool at the same time the home is constructed is also just easier to do. Many of today's pool designs are complicated to engineer and construct. Building the pool at the same time the house is under construction allows
Sterling Custom Homes and their pool contractors to access the pool site more easily than after a home and fencing are already standing. If a project is land-locked or has a severe slope, building a pool after home construction may be implausible.