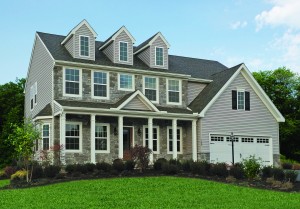 Keystone Custom Homes is central Pennsylvania's largest locally owned home builder. In 2015, they have sold a record amount of homes. With 155 homes sold by March, Keystone Custom Homes credits its record breaking sales to a dedicated team, a plethora of products and an increase in buyer demand.
February was a successful month to wrap-up the winter months with 71 homes sold. This was the most sales in one month in all of the company's history, and this accomplishment happened during one of the coldest months for the area in over 100 years. "71 homes sales is still astounding to us," said Janette Hawkins, Vice President of Marketing at Keystone Custom Homes. "Not only is February the shortest month of the year, but the freezing weather usually makes home buying and selling difficult. We are very proud of our entire team for working so diligently, and they've kept the momentum up!"
Continuing the success, Keystone sold 84 homes in March, a perfect way to start the spring season. "Last March, we only had 38 gross sales," continued Hawkins. "This year, we more than doubled our numbers."
Keystone Custom Homes is committed to not only fantastic customer service, but its focus on building quality energy efficient homes with 44 communities. Located throughout the Pennsylvania area, there is a dream for every price point from the $160,000s to the $410,000s. Including the latest features and upgrades, home buyers can choose between single-family homes and townhomes.
Buyers demand is also on the rise with economists predicting that the housing market will continue to grow this season and for the rest of the year due to job growth and low mortgage interest rates. "We are excited to see how we finish the season out," explained Hawkins. "And we look forward to breaking even more records this year."
For more information about Keystone Custom Homes, visit www.keystonecustomhome.com.