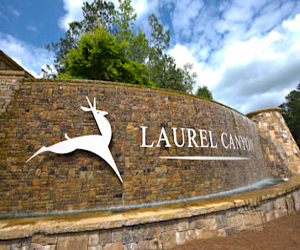 Soleil Laurel Canyon, a luxurious active adult community in Canton, is proud to announce its 2012 ambassadors. The ambassador program started in 2009 as a way to allow homebuyers to interact with current residents.
The ambassadors are chosen by Active Lifestyle Communities (ALC), the developer of Soleil Laurel Canyon. Residents are selected based on their hobbies and involvement within the community.  Twenty-four enthusiastic residents will kick off the 2012 program on February 8th with an induction ceremony for new members.
Events are often held at the Soleil clubhouse and sales gallery and are a success due to the ambassadors' participation.  They are also responsible for attending and participating in off-site events such as trade shows and receiving periodic phone calls from prospects to answer non-sales related questions.  Most importantly, they are responsible for showing prospective residents what they love most about their community.  Homebuyers can get the best perspective by immersing themselves in the Sneak-a-Peek experience, guided by the on-site agents and ambassadors.
Soleil Laurel Canyon's Sneak-a-Peek program allows potential homebuyers to stay three days and two nights at the community. They get to experience two rounds of golf, tennis lessons, clubhouse activities, breakfast or lunch for two, private tours and complimentary on-site activities. The programs starts at just $79.* Ambassadors call the guests to greet them after their arrival, offer to meet with them and answer any non-sales related questions, escort them to any on-site activities and offer them the "owner" tour of Soleil and the surrounding area.
The 2012 Soleil Laurel Canyon Ambassadors include the following residents:
Linda Weber
Jerry & Rosemary Zameroski
Carole George
Janey & Carl Wellborn
Bruce & Sally Nagel
Dick & Cynthia Rubant
Marge & John Nettuno
Betty & Louis Cambra
Lin Breeden
Sandy & David Schnee
Micki & Frank Farley
Neil Greenspan
Elmer & Glenda Prather
Jerry & Roz Gladstone
Restricted to those 55+ in age, residents enjoy a wide range of amenities including a 28,000 square foot clubhouse with heated indoor saline pool, billiards parlor, gourmet teaching kitchen, fitness center and aerobics studio, library, two card rooms and an arts and crafts studio. Outdoor amenities include a performing arts center, outdoor amphitheatre, outdoor lagoon-style pool, six clay tennis courts, full-time tennis pro, walking trails and greenhouse.
For more information about Soleil Laurel Canyon, call 678-880-3071 or visit
www.SoleilLaurelCanyon.com.