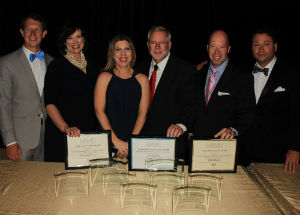 Last month, Traton Homes attended the 31st Annual MAME (Major Achievement in Market Excellence) Awards at The Ritz-Carlton in Charlotte acknowledging the best in Charlotte real estate. The Carolina division of Traton Homes was recognized by the Home Builders Association of Greater Charlotte and won a remarkable 12 awards for achievement in sales, marketing, design and home building.
The Gold MAME Awards won by Traton Homes were:
• Best Logo Design for Rosecliff
• Best Landscape Design for Rosecliff
• Best Design Center and Experience
The Silver MAME Awards won by Traton Homes were:
• Best Logo Design for Traton Homes
• Best Brochure for Rosecliff
• Best Special Promotion, Realtor for Design Studio Grand Opening/Rosecliff
• Best Outdoor Living Space for Rosecliff
• Best Product Design Over $600,000 for the Linville at Rosecliff
In addition, the broker-in-charge of Traton Homes of the Carolinas Gina Lee Dennis received a Bronze Sales Achievement Award; sales agents Ed McDevitt and Chris Davis received Silver Sales Achievement Awards; and builder Trey Williams received a Cornerstone Achievement Award.
It truly takes a team of dedicated professionals to achieve these results. Traton Homes understands this and has put together a team that is dedicated to offering the best quality homes and an exceptional home buying experience. To find out more about Traton Homes in Atlanta and Charlotte, visit www.TratonHomes.com.