Womack Custom Homes prides itself on seamlessly blending functionality and stunning design elements to create spaces that meet your needs. The builder recently undertook an impressive bathroom remodeling project in a beautiful Cartersville home in collaboration with local business Kelly Harrison Interiors. The result was a breathtaking bathroom oasis that perfectly combined functionality with exquisite aesthetics.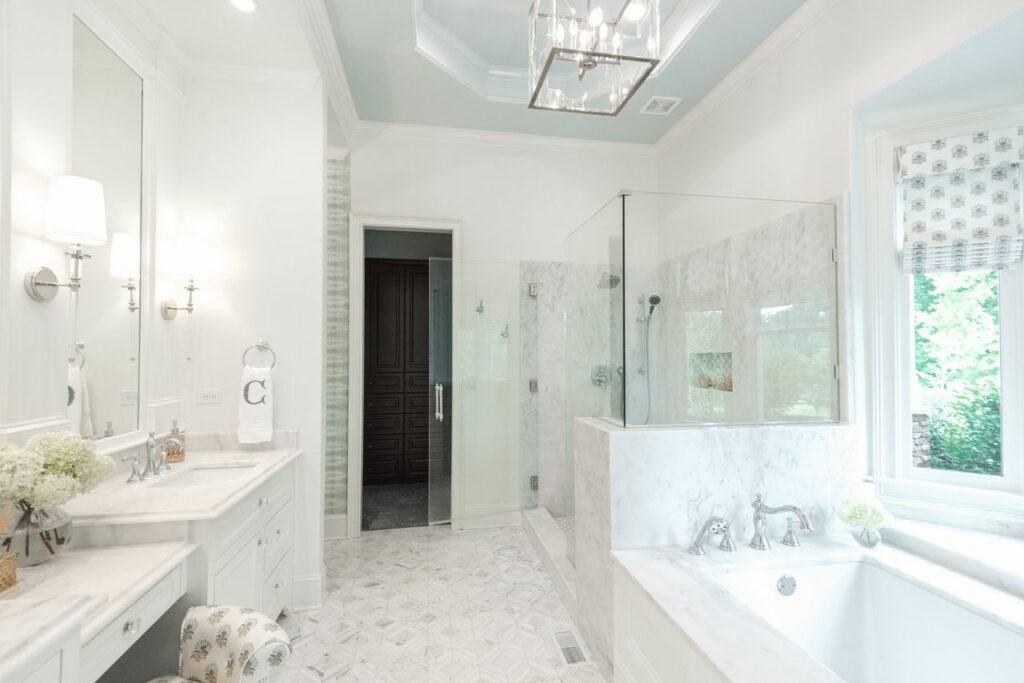 When residents enter this transformed bathroom, they are transported to a luxurious sanctuary. The calming ambiance is achieved through crisp white walls, evoking a sense of tranquility. Complementing the trending color options of the year, vibrant green accents breathe life into the space. Carefully chosen gray and white floor tiles bring a subtle dimension and add a unique twist to the typical white tile selections.
The true centerpiece is the double vanity, radiating elegance with its marble countertops and glistening silver hardware that perfectly complements the color palette. Positioned between the two washing-up stations, a well-appointed makeup area and vanity chair provide convenient access. Completing this vanity setup are two expansive mirrors and elegant wall sconces, adding the finishing touches to this ideal space to start and end each day.
Never worry about storage in this bathroom oasis, as it offers endless opportunities. The clean and muted accent of white cabinets with crystal knobs seamlessly blends into the well-designed space, providing ample storage solutions.
An enclosed shower steals the show, with gorgeous solid marble walls and gray floor tiles creating a visually striking backdrop. Equipped with dual showerheads, it ensures the ultimate bath-time experience. A built-in cubby conveniently delivers extra storage, while intricate gray tile detailing in an abstract floral pattern adds an artistic touch to the shower floor.
Tray ceilings adorn this expansive room and add an extra dimension of sophistication and charm. Enhanced by a pendant light, these ceilings create an elegant atmosphere. The selection of a soft green hue for the ceiling paint adds a subtle splash of color to the room's palette.
The toilet area provides both privacy and style in a small, enclosed space. Vibrant green wallpaper makes a statement, while an over-the-toilet medicine cabinet with mirrored doors offers practicality. A sophisticated chandelier positioned above the toilet provides gentle illumination to the space.
No luxurious bathroom is complete without a tub for long soaks and relaxation. The true star of the room, this tub features exquisite marble finishes and offers stunning backyard views through large window fixtures. A marble ledge overlooking the wooded backyard provides ample space for soaps, salts, and other bath essentials. Cordless window shades, adorned with a beautiful floral design that perfectly matches the vanity chair at the makeup station, add the final touch to this indulgent space.
Ready to Transform Your Home? If you're ready to breathe new life into your home, look no further. Contact the Womack Custom Homes team today at 678-776-6872 or visit the Contact Page. Explore the builder's Project Gallery for inspiration on your next remodeling project!